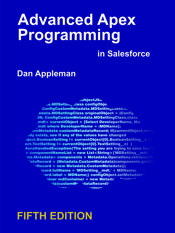 Advanced Apex Programming for Salesforce.com and Force.com (4th edition)

by Dan Appleman
Advanced Apex programming focuses entirely on the Apex language and core design patterns. You'll learn how to truly think in Apex – to embrace limits and bulk patterns. You'll see how to develop architectures for efficient and reliable trigger handling, and for asynchronous operations. You'll discover that best practices differ radically depending on whether you are building software for a specific organization or for a managed package. And you'll find approaches for incorporating testing and diagnostic code that can dramatically improve the reliability and deployment of Apex software, and reduce your lifecycle and support costs.
Visit www.advancedapex.com for more information.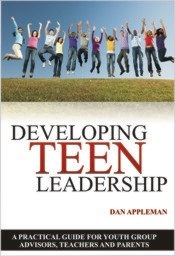 Developing Teen Leadersip: A Practical Guide for Youth Group Advisors, Teachers and Parents
by Dan Appleman
Good grades are not enough to guarantee a secure future and successful career in our rapidly changing world. But add in leadership skills – the skills used to inspire, motivate, communicate and negotiate with others – and you have what it takes to succeed in any career. But how do you teach those skills to teens?
Youth advisors, counselors, scoutmasters, teachers and parents strive to do so every day, and now they have a guide and reference to help with that task.
From guiding principles to specific techniques, this book covers every aspect of teaching youth leadership, and even approaches you can use to help teens to teach leadership skills to each other. Visit www.teenleadershipbook.com for more information.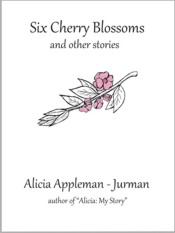 Six Cherry Blossoms: and Other Stories
by Alicia Appleman-Jurman
This collection by Alicia Appleman-Jurman, best selling author of "Alicia: My Story" includes four stories:
"Six Cherry Blossoms" -a tale of survival written for children and their parents.
"Cyprus" – the story of Alicia's time in a British concentration camp in Cyprus.
"I Love Israel" – tells of her first day in school at Mikveh Israel, an agricultural school near Tel-Aviv.
"Childhood Memories" – recollections of her life before the war.
Also available: Alicia, Live – a 65 minute presentation by Alicia on DVD.
Visit www.aliciamystory.com for more information.